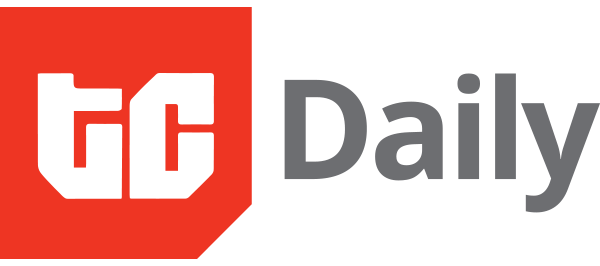 31 MAY, 2023

IN PARTNERSHIP WITH
Good morning ☀️
We're out on the streets of Marrakech today.
From now till June 2, you can throw hands with catch our CEO Tomiwa Aladekomo and editor-in-chief Adrian Ephraim at the GITEX Africa conference in Morocco.
If you stop by and say hi, you may get some gifts and have your headshot in tomorrow's edition of TC Daily. 🙂
NVIDIA JOINS THE TRILLION-DOLLAR CLUB

Nvidia has joined the trillion-dollar club and it's thanks to artificial intelligence (AI).
Bloomberg reported that the share price of the California-based firm shot past $412 on Tuesday, making the firm worth more than $1 trillion, like Apple, Amazon, Alphabet and Microsoft currently are.
All because of AI. Per Bloomberg, Nvidia's shares have been on an incredible journey since last week when it dropped a bombshell AI-powered sales forecast of $11 billion in Q2. People are going crazy over Nvidia, and rightfully so! This isn't one of those situations where AI is just a buzzword thrown around to excite investors.
As the powerhouse chipmaker, Nvidia has been leaving its competitors in the dust when it comes to developing mind-blowing graphics chips. But here's the kicker: while others were still scratching their heads about artificial intelligence, Nvidia had already placed some major bets on it. They were playing the AI game before anyone else even took it seriously.
Now, with the mind-boggling demand for AI chips and software soaring to new heights, Nvidia's stock is shooting through the roof. What's got everyone in a frenzy? Well, Nvidia just dropped a bombshell announcement about an AI supercomputer platform that'll let tech companies create their very own versions of mind-blowing language models like ChatGPT. They've also unleashed a whole bunch of cutting-edge products in the realms of robotics, gaming, advertising, and networking, all fueled by the power of artificial intelligence.
And here's the icing on the cake: Nvidia has also proven that their graphics chips are the ultimate champions when it comes to handling AI workloads.
MONIEPOINT RANKED 2ND FASTEST-GROWING AFRICAN COMPANY
Moniepoint is Africa's second-fastest growing company, as shown in FTs latest report. We also processed 1 billion transactions worth $43 billion in Q1 alone. Read all about it here.
This is partner content.
EYOWO USERS GET CREATIVE
Eyowo's customers are making a way where there seemed to be no way.
Nearly a week after the CBN revoked the digital microfinance bank's licence, its users are still unable to access their funds in the bank. As a result, some users have resorted to buying airtime and cable subscriptions on the platform with the intention of reselling them in order to retrieve their money.
How? Even though withdrawals have paused, options like airtime purchases and cable subscriptions are still active on the Eyowo app. So, some users are purchasing airtime with the money stuck in the app and reselling them to obtain cash. While some are advertising the airtime and cable subscription for sale online, others are simply selling it on fintech platform PalmPay using its Recharge2Cash option.
Sound familiar? It appears that this strategy is not novel as a Twitter user also affirmed that he did the same thing when fintech platform Carbon experienced a similar downtime in the past. He tweeted, "Similar 5 days of downtime happened with Carbon, and I had to buy airtime to empty my account."
Why? Many Eyowo users have nagging personal needs only money can solve. Some business people need the money to fulfil their orders and find other operating activities. Others have nagging needs that only money can solve. Eyowo has assured its users that it is working with the CBN to resolve the matter and restore normalcy.
But can things go back to normal for Eyowo after this? Only airtime will tell.
RESEARCHERS SAY WE SHOULD BAND TOGETHER TO FIGHT AI

Skynet is coming. 🤖 Or at least some people think so.
A group of top AI researchers, engineers, and CEOs have come together to issue a warning on AI's potential threat to humanity, in a 22-word statement.
The statement emphasises the need to view the risks associated with AI as a global priority, highlighting its significance alongside other societal-scale risks like pandemics and nuclear war.
Who's warning us? Prominent figures, such as Demis Hassabis, CEO of Google DeepMind, and Sam Altman, CEO of OpenAI, along with numerous other signatories, have put their names on the line to support this warning. The latest statement throws itself into the ongoing debate about AI safety, bringing in another high-profile intervention.
A previous warning: Earlier this year, Elon Musk and top AI researchers called for a pause on "giant AI experiments", in an open letter that reads: "We call on all AI labs to immediately pause for at least 6 months the training of AI systems more powerful than GPT-4."
According to The Verge,the letter faced criticism on multiple fronts. Some experts argued that it exaggerated the risks associated with AI, while others acknowledged the potential dangers but disagreed with the suggested course of action proposed in the letter.
Dan Hendrycks, executive director of the Centre for AI Safety, told The New York Times that the brevity of today's statement—which doesn't suggest any potential ways to mitigate the threat posed by AI—was intended to avoid such disagreement. "We didn't want to push for a very large menu of 30 potential interventions," said Hendrycks. "When that happens, it dilutes the message."
CARDOO LAUNCHES IOT-ENABLED SMARTWATCH

CardoO, an Egyptian startup focusing on Internet of Things (IoT) devices, has unveiled its first IoT-enabled smartwatch.
This news comes shortly after CardoO secured a seed funding round of $660,000 in October 2022, led by the Alexandria Angel Network, with contributions from Sofico Investments and angel investors from Saudi Arabia. The CardoO Watch is a stylish and versatile wearable that combines fashion and functionality. It also empowers users to stay connected, monitor their health, and manage their daily tasks, all on their wrists.
Its features: The smartwatch is engineered with a robust and efficient RTL8762DK chip, backed by 128MB of memory, ensuring smooth and fast operation. With a durable zinc alloy body, IML finish, and IP68 waterproof rating, it ensures longevity. Its 1.9″ IPS full-view colour screen produces sharp images with a resolution of 240×283 at 320 PPI. The device offers a 260mAh polymer lithium battery for 5–7 days of regular use and up to 20 days in power-saving mode. Designed for Android 4.4+ and iOS 10.0+ devices, it supports multiple languages for a more personalised experience.
The CardoO watch is available for purchase on the CardoO website and through selected retail partners.
EXPERIENCE VIVA TECHNOLOGY
Book your pass to Europe's biggest Startup and Business event here.
This is partner content.
THE WORLD WIDE WEB3
Bitcoin

$27,146

– 2.16%

Ether

$1,868

– 1.51%

BNB

$307

– 1.53%

Cardano

$0.37

– 1.23%


Name of the coin


Price of the coin


24-hour percentage change

Source:


CoinMarketCap



* Data as of 06:30 AM WAT, May 31, 2023.
EVENT: AFRICA TECH SUMMIT LONDON
After a sold out 2022 Africa Tech Summit London, the leading event series focused on African tech and investment across the continent will host its 7th London edition on June 23, 2023.
Register now and connect with tech leaders. Use the code "TC10" for a 10% discount on tickets.
OPPORTUNITIES

What else is happening in tech?

SHARE THIS NEWSLETTER ONLINE
Written by – Mariam Muhammad & Ngozi Chukwu
Edited by – Timi Odueso & Kelechi Njoku
Want more of TechCabal? Sign up for our insightful newsletters on the business and economy of tech in Africa.
P:S If you're often missing TC Daily in your inbox, check your Promotions folder and move any edition of TC Daily from "Promotions" to your "Main" or "Primary" folder and TC Daily will always come to you.